How to pick out the correct fabric for your Karaush™ baby carrier
How much wrap fabric do you need to sew a baby carrier?
Some of your baby carriers are entirely made of wraparound fabric, some have lining – why is that so?
What kind of wrap should I choose?
Tell me, please! Do the fiber characteristics and content affect baby carrier qualities?
Let me start from the simplest thing – meters of fabric
Like any tailor, I try to avoid embarrassing situations and make sure there is enough supply of fabric. Consumption of fabric depends on a variety of factors: its width, texture (loose or tight), pattern and the need to match it. Any cutting waste is given back to the customer. So, the meters of fabric needed for items of standard size are the following:
Baby carrier entirely made of wraparound fabric – 2.5 m without the horizontal edge (keep in mind that long shoulder straps or long padded waist belt require more fabric)
Sling baby carrier with lining – 2 m without the horizontal edge
Doubleface baby carrier – 1.3 m of each wrap without the horizontal edge
Fast baby carrier – 1.4 m without the horizontal edge
Maya wrap offers some options. I prefer sewing grand maya wrap with wide and long straps. Such baby carriers require the whole wrap of 4.2 meters (size 5). However, you may want a simpler maya wrap, which is made of 2.6 – 2.8 m of wrap.
Knapsack – 0.5 m without the horizontal edge
Kids daypack (small) – 1 – 1.5 m without the horizontal edge (various models)
Backpack for adults – 1.5 – 2.5 m without the horizontal edge (subject to the size and number of pockets)
Types of wrap fabric:
It is known that wraps are made by different methods and weaving.
Some wraps are suitable for sewing entirely wraparound baby carriers; some do not fit at all. Also, there are wraps that may be used for baby carriers with lining.
It all depends on the looseness and mobility the wrap thread. Here's a simple test: take your wrap and push threads in different directions. If nothing happens, the wrap is perfect to sewing entirely wraparound baby carrier!
If you managed to push threads and formed a "groove", as in the photo below, then this is the kind of fabric that requires more support. In this case, lining of more dense texture will help. It will bear a part of the load and will prevent seams from loosening. However, this is a partial solution and I do not recommend to use these wraps for your baby carriers!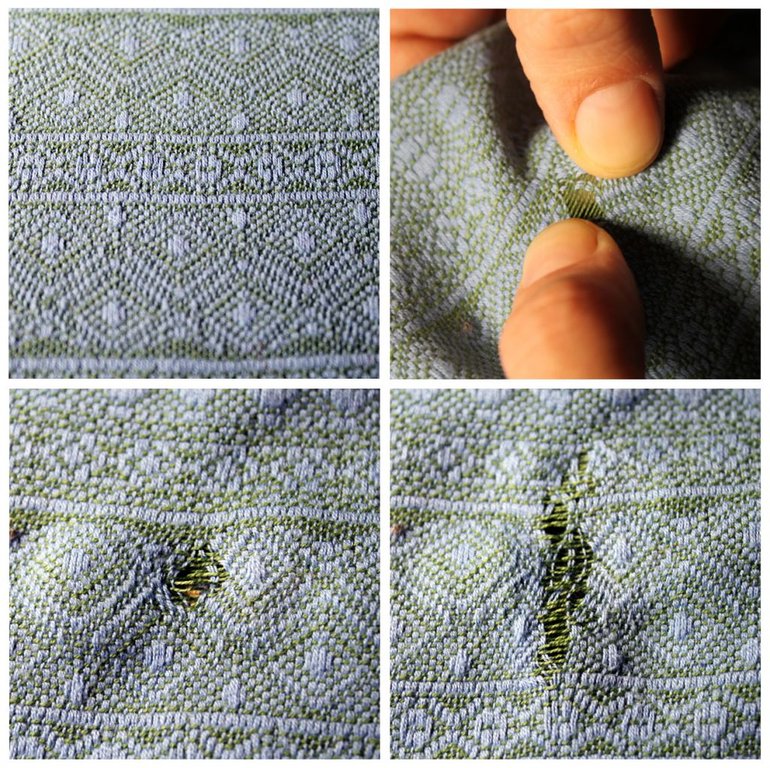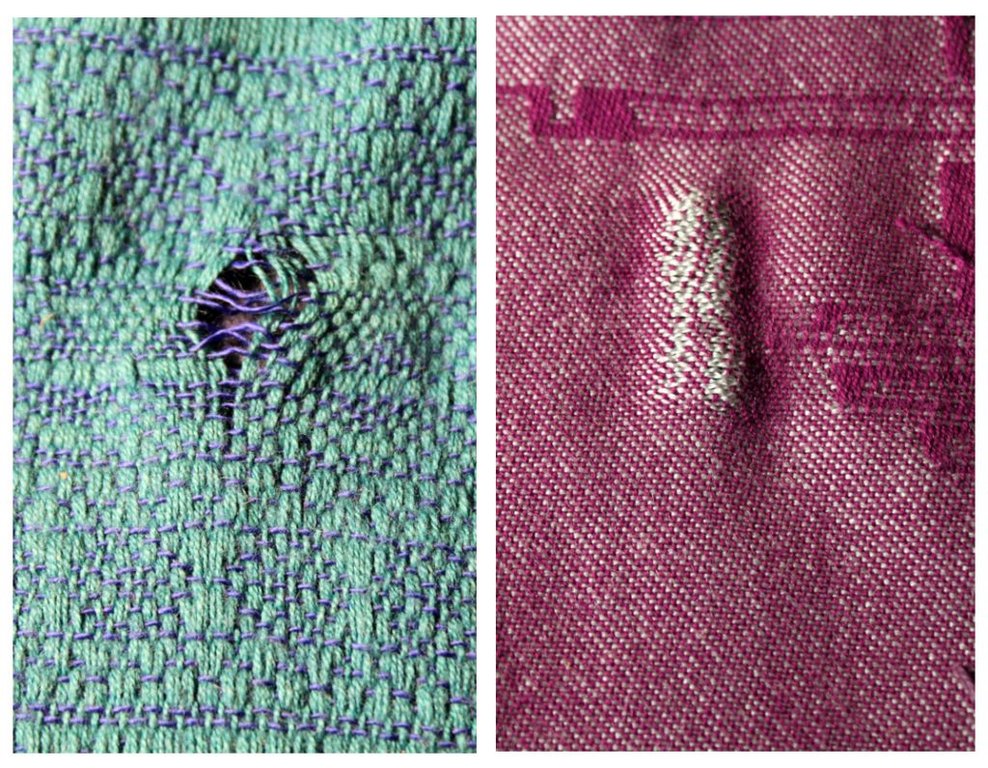 What wraps are perfectly suitable for entirely wraparound baby carrier?
Ellevill – any Zara or Jade wrap;
Didymos – any colored stripes, latimeria fish, geckos, papillon valentine, any waves, mistik;
Natibaby – Japan (linen), any diamond weave wrap;
Storche – diamond weave of stripes;
Striped wrap of almost any brand.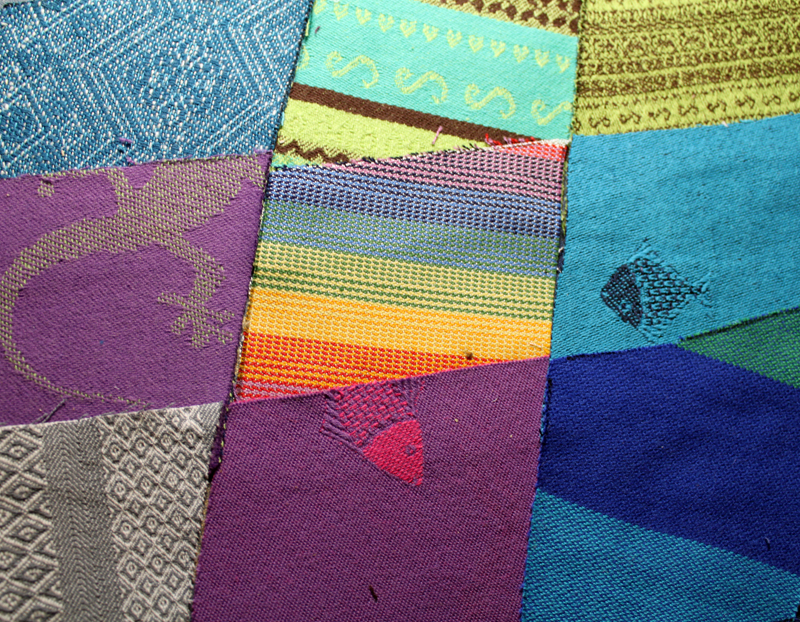 Which wrap should I choose?
Please, don't ask me to choose a color or content for you. I prefer bright, vibrant colors and multicolor style :) Is that good for you? Select the color and the pattern that suits your taste, seasonal color analysis and your clothes.
About the composition
The baby carrier qualities are very slightly impacted by the wrap content. Density and thickness of the fabric are more important. A light linen wrap will not have upper weight limit than a dense cotton wrap. Baby carriers made of bamboo wrap fabric are nice to the feel and ensure the same support as cotton wraps do.
Ekaterina Karaush